Cocheco Quilters Guild
36th Annual Show

Quilting Through
The Seasons
October 14-15, 2017

Rochester Community Center
150 Wakefield Street, Rochester, NH



2017 QUILT SHOW WINNERS

BEST IN SHOW
Martha Wilson: Birds of a Feather

VIEWERS' CHOICE
Jacquie Palmatier: Chickens Gone Wild
Louise Thibaudeau: Birdsville
Anna Bullard: Red Houses

JUDGES' CHOICE
Judge Susan Raban :
Yankee Doodle Cabin by Wendy Coffin

Judge June Pease:
Spirit of Japan #3 Kuruma by Gladi Porsche

Judge Ellen Peters:
Enchanted Garden by Louise Thibaudeau


---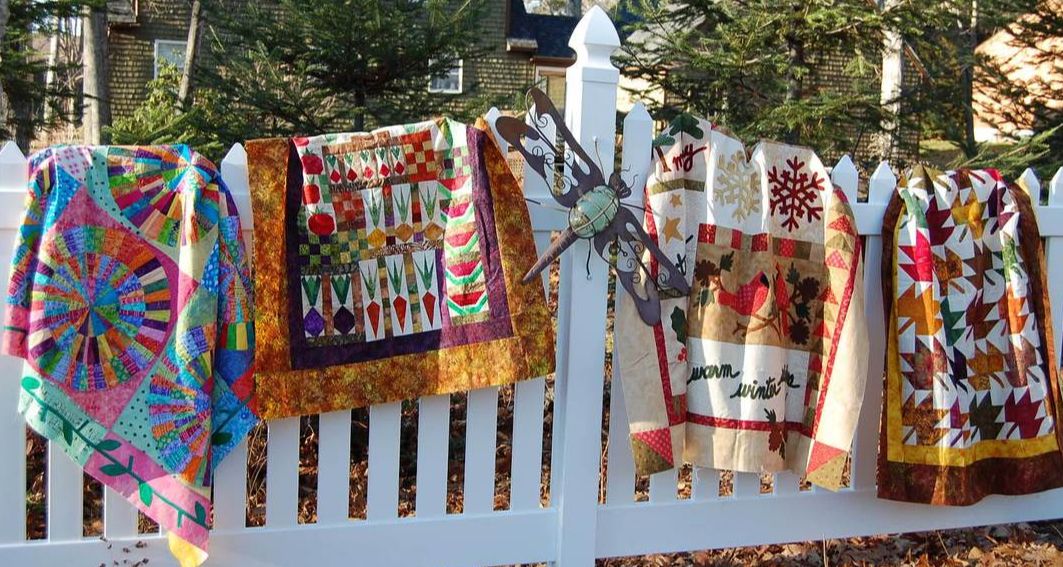 2017 MEGA-RAFFLE!
Congratulations to Sherie Mann of Rochester, winner of not one but four fabulous seasonal quilts (pictured above) in this year's Cocheco Quilters raffle.

Thank you to everyone who bought raffle tickets. Every penny of proceeds raised by the sale of these raffle tickets goes to benefit:

- New England Quilt Museum
- My Friend's Place
- Hope on Haven Hill

---
---

THE MAKING OF
A GREAT QUILT SHOW

It takes many, many hands to set up, run and take down a spectacle as grand as the Cocheco Quilters Guild annual quilt show.

Warm thanks to all our volunteers! We are particularly appreciative for the assistance of the young men and women of the Rochester High School ROTC.

Enjoy these pics of what went into creating our 2016 quilt show.

~ All photos of the 2016 show &
set-up by Jonas Zoller.


---
---
2015 QUILT SHOW WINNERS

BEST OF SHOW: I Refuse to Lose My Marbles by Carol Barstow

Viewers Choice: A Primitive Garden by Louise Ford
Spring Sonata by Gladi Porsche
Christmas Celebrations by Debbie Shepard

2015 Raffle Quilt Winner: Chris Carbon [Sanford, ME]
2nd Prize Table Runner Winner: Karen Burband
Sewing Machine Winner: Michelle Kincaid
Cradle & Doll Quilt Winner: Jeanne Elliott

At right: Pics of all the hard work that went into the making of our 2015 show. Where would we be without our fabulous volunteers (including members of the Rochester High School ROTC)?



---
October 18-19, 2014
TAPESTRY OF COLOR



Highlights of the
2014 Cocheco Quilters Guild
annual quilt show.

Highlights of the 2013 Cocheco Quilters Guild Show